...
Nothing beats the physical connection to the experience.
Real-time data
− Installation −
Jam3 invited me to conceptualize visuals for a large data visualization installation on a digital screen, illustrating current trends in the financial market.
The visualizer created a beautifully animated WebGL experience, illustrating 33 stock lines. The chaotic nebula of particles, represents a data pull from one of the stocks.
Creating Order from Chaos
LIVE EVENT VISUALS
− TomorrowWorld −
A capture of the TomorrowWorld live stream features over 30 WebGL visualisations. The event streamed live to millions offering a second screen connectivity & a MotoX personalization tools.
A live-streaming, visual feast that brought in over 2.45 million users over the 3 day festival.
Smart building
− Data projection −
I was invited to explore the concept of using data inside a modern skyscrapper. I was working on ideas that could merge general information like weather, time of the day with more personalized elements (ex. mood, purpose) to bring the building to life with its visitors.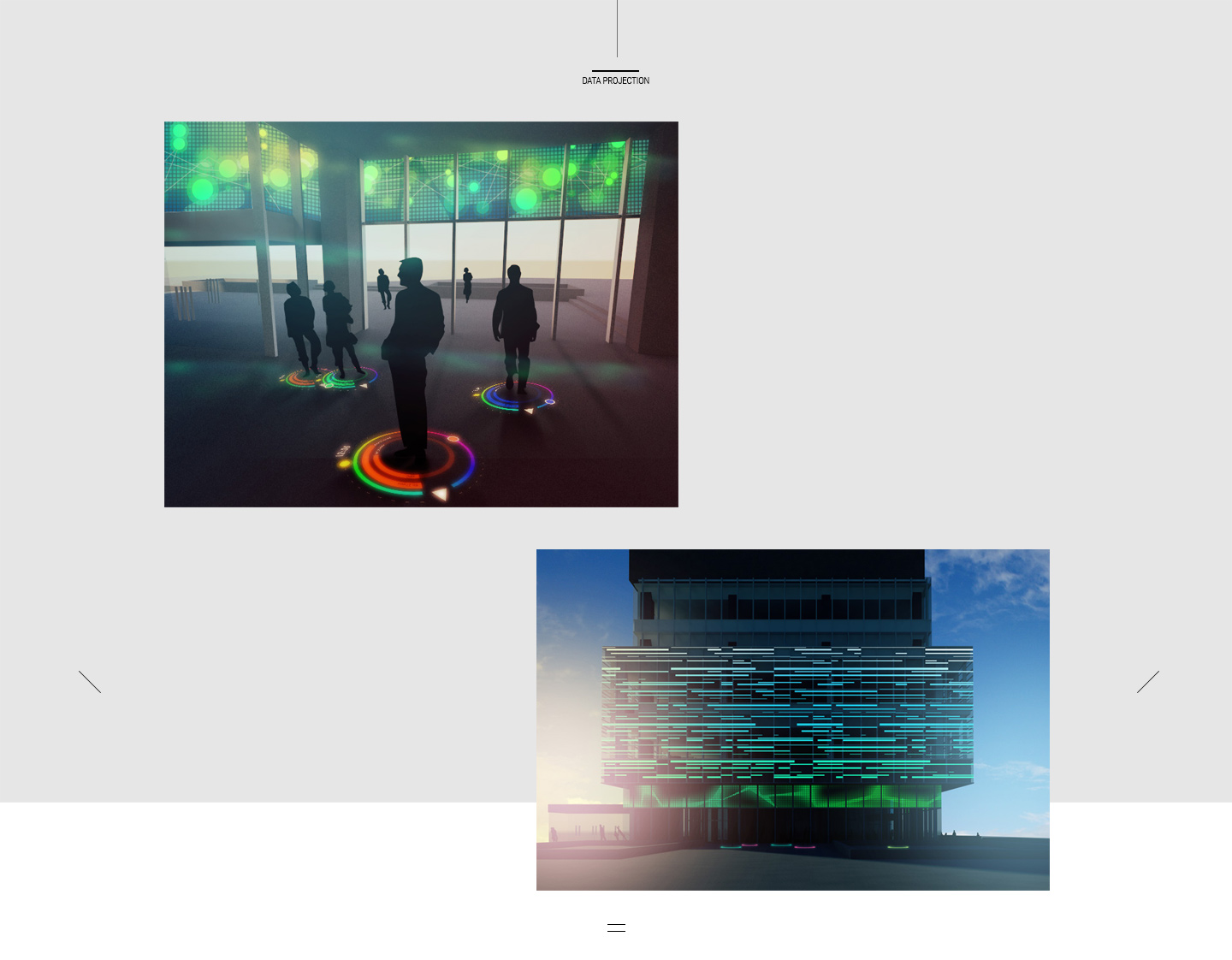 The idea was all the information we can gather impact the visualisation outside and inside the building.
Personalized interface elements projected on the ground would allow visitors to learn more about the place.
Bobbleheads
− Digital Signage −
An interactive digital experience for sports fans, at the Air Canada Centre in Toronto.
I have designed the look & feel of an interactive kiosk, that allows fans to browse and purchase from a selection of limited edition "bobbleheads" of Toronto Maple Leaf and Toronto Raptors players.
A way to show fans what the future of shopping is going to look like.
Polish Tourism Expo
− Trade Show Space Design −
At Platige Image we were responsible for the concept, design and interactive installation
For Polish Tourist Organisation's Exposition at Berlin ITB 2012.
Main theme of the stand was UEFA Euro 2012 and Poland's preparation towards this event.
Part of the installation was an AR experience, where you could see 3D Stadiums and hold your very own European Trophy.
Science Museum
− Data Viz Mapping −
For an upcoming Science Museum I worked with the team on interactive data visualisation that would show the universe of people's feelings around the world projected onto the facade of the musem's building.
Audience would be able to interact with the visuals, breaking down the data and learning more.